Organize your processing activities by department using business units
Define Business Units for your Processing Activities (PAs) to detail its purpose and which team owns it. Filtering or exporting PAs by Business Unit is useful for analyzing privacy on a per-department basis. Here's how:
Before getting started with Business Units, add processing activities to your systems. Learn how here.
To get started with business units head to your processing activities page.
Select a processing activity that you'd like to add, remove or change the business unit of.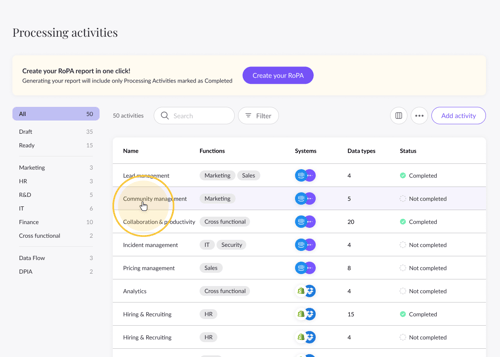 The "Activity info" page will appear where you can edit business units in the Business Unit field.
To remove a business unit, click on the 'x' next to the business unit you'd like to remove.
To add a business unit, click "Add" and select from the following list of business units:
Sales & Business Development
Marketing
HR
R&D
IT
Legal and Compliance
Finance
Design
Customer success
Security
Operations
Cross Functional
About Cross Functional activities:
Cross functional activities aren't specific to one business unit and are likely used by the entire organization. For example: Collaboration, Analytics.
An activity can have multiple functions unless the function is "Cross functional". By adding at least one specific business unit, the activity will no longer be cross functional. By selecting cross functional as business unit, all other units will be removed.
If you have questions about business units, talk to us at portal@saymine.com, and we'll be happy to help!🙂