Redact a Data Subject Request to anonymize the user's personal information.
About redacting Data Subject Requests
As part of the deletion request handling process, you can redact a request after it has been successfully closed so all of the user's personal information will be anonymized.

You can:
Redact any closed requests automatically
Manually redact closed requests
Before redacting a request:
How to redact closed requests automatically
To get started, click on your company logo at the bottom lefthand corner of the sidebar navigation and select "Settings".
Under the "Configuration" tab within the "DSR Requests" section of your settings, toggle on "Redact closed requests automatically" in the PII Redaction section.
Upon enabling, any request will be redacted automatically upon closing.
Important: Once a request has been redacted, it cannot be reversed.
To redact closed requests manually

First, head to your Requests page.
On the upper lefthand corner, set your filter view to "Closed" requests.
Next, select the closed request you'd like to redact.

On the request's page, select "Redact this request" (see image).
After redacting a request, the request will be shown on the Closed Request page as follows:
Note: Before redaction, you must close all open requests from the same data subject. This message will appear if the data subject has open requests:

If you have more than one closed request from the same user, a notification will appear asking you if you wish to redact them all.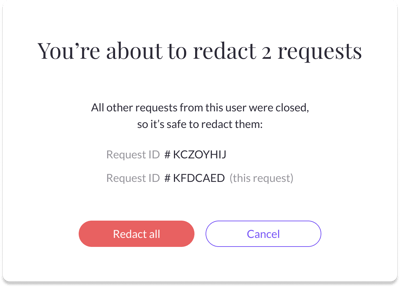 Note: The request will be redacted within the next 30 days.
Next steps

If you have any questions about redacting requests, write us at portal@saymine.com, and we'll be happy to help! 🙂